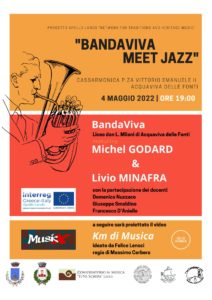 We are almost there!
We look forward to seeing you on 𝗪𝗲𝗱𝗻𝗲𝘀𝗱𝗮𝘆 𝟰 𝗠𝗮𝘆, 𝗮𝘁 𝟳:𝟬𝟬 𝗽.𝗺. 𝗮𝘁 𝘁𝗵𝗲 "𝗖𝗮𝘀𝘀𝗮𝗿𝗺𝗼𝗻𝗶𝗰𝗮" 𝗼𝗳 𝘁𝗵𝗲 𝗠𝘂𝗻𝗶𝗰𝗶𝗽𝗮𝗹𝗶𝘁𝘆 𝗼𝗳 𝗔𝗰𝗾𝘂𝗮𝘃𝗶𝘃𝗮 𝗱𝗲𝗹𝗹𝗲 𝗙𝗼𝗻𝘁𝗶, for a moment dedicated to the 𝗲𝗻𝗰𝗼𝘂𝗻𝘁𝗲𝗿 𝗮𝗺𝗼𝗻𝗴 𝘆𝗼𝘂𝗻𝗴 𝗽𝗲𝗼𝗽𝗹𝗲, 𝗯𝗮𝗻𝗱 𝘁𝗿𝗮𝗱𝗶𝘁𝗶𝗼𝗻 𝗮𝗻𝗱 𝗷𝗮𝘇𝘇 𝗺𝘂𝘀𝗶𝗰!
Thanks to the skilful guidance of 𝐌° 𝐋𝐢𝐯𝐢𝐨 𝐌𝐢𝐧𝐚𝐟𝐫𝐚 and 𝐌° 𝐌𝐢𝐜𝐡𝐞𝐥 𝐆𝐨𝐝𝐚𝐫𝐝, the young musicians, who took part in the masterclass and music workshop held in April, will give life to a 𝐩𝐞𝐫𝐟𝐨𝐫𝐦𝐚𝐧𝐜𝐞 𝐛𝐨𝐫𝐧 𝐟𝐫𝐨𝐦 𝐭𝐡𝐞 𝐞𝐧𝐜𝐨𝐮𝐧𝐭𝐞𝐫 𝐛𝐞𝐭𝐰𝐞𝐞𝐧 𝐭𝐫𝐚𝐝𝐢𝐭𝐢𝐨𝐧 𝐚𝐧𝐝 𝐦𝐮𝐬𝐢𝐜𝐚𝐥 𝐢𝐧𝐧𝐨𝐯𝐚𝐭𝐢𝐨𝐧.