Apollo Lands. Network for traditions and heritage in music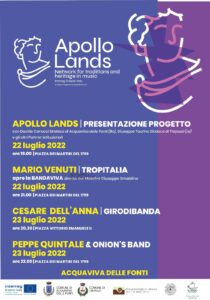 𝐎𝐧 𝐅𝐫𝐢𝐝𝐚𝐲 𝟐𝟐 𝐚𝐧𝐝 𝐒𝐚𝐭𝐮𝐫𝐝𝐚𝐲 𝟐𝟑 𝐉𝐮𝐥𝐲, 𝐭𝐡𝐞 𝐌𝐮𝐧𝐢𝐜𝐢𝐩𝐚𝐥𝐢𝐭𝐲 𝐨𝐟 𝐀𝐜𝐪𝐮𝐚𝐯𝐢𝐯𝐚 𝐝𝐞𝐥𝐥𝐞 𝐅𝐨𝐧𝐭𝐢 𝐰𝐢𝐥𝐥 𝐡𝐨𝐬𝐭 𝐭𝐡𝐞 '𝐀𝐩𝐨𝐥𝐥𝐨 𝐋𝐚𝐧𝐝𝐬' 𝐞𝐯𝐞𝐧𝐭𝐬, as part of the Greece-Italy Interreg Programme.
For the occasion, 𝗕𝗮𝗻𝗱𝗮𝗩𝗶𝘃𝗮, 𝘁𝗵𝗲 𝘆𝗼𝘂𝘁𝗵 𝗯𝗮𝗻𝗱 𝗼𝗳 𝗔𝗰𝗾𝘂𝗮𝘃𝗶𝘃𝗮 𝗰𝗿𝗲𝗮𝘁𝗲𝗱 𝘁𝗵𝗮𝗻𝗸𝘀 𝘁𝗼 𝘁𝗵𝗲 𝗽𝗿𝗼𝗷𝗲𝗰𝘁, 𝘄𝗶𝗹𝗹 𝗺𝗮𝗸𝗲 𝗶𝘁𝘀 𝗱𝗲𝗯𝘂𝘁. They will perform pieces by composers for orchestras and wind instruments, marches, and some pieces by the artist Mario Venuti, who will perform immediately afterwards.
The following evening, Saturday 23 July, it will be the turn of Girodibanda, the Salento band formation directed by Cesare Dell'Anna, who will perform on the "Cassarmonica" in Vittorio Emanuele Square.