MUSIC DAYS 2022 – VIDO ISLAND CORFU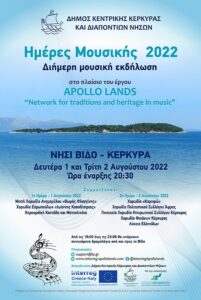 The Municipality of Central Corfu and Diapontia Islands will host a two-day music event as part of "Days of Music 2022", on the island of Vidos on Monday 1 and Tuesday 2 August 2022 within the European project APOLLO LANDS 'Network for traditions and heritage in music', as part of the Greece-Italy Interreg Programme. The music event will feature local music groups that will present samples of Heptanisian and modern music.
Entrance is free for the public.