𝐆𝐢𝐨𝐯𝐚𝐧𝐢 𝐦𝐮𝐬𝐢𝐜𝐢𝐬𝐭𝐢, 𝐰𝐞 𝐰𝐚𝐧𝐭 𝐲𝐨𝐮!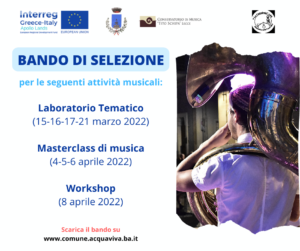 𝐆𝐢𝐨𝐯𝐚𝐧𝐢 𝐦𝐮𝐬𝐢𝐜𝐢𝐬𝐭𝐢, 𝐰𝐞 𝐰𝐚𝐧𝐭 𝐲𝐨𝐮!  The call for selection of participants who will be involved in the laboratory activities organized within the project from
Comune di Acquaviva Delle Fonti – Municipio
, in collaboration with
La Cattedrale APS – già Onlus
, and the
Conservatorio di Musica "Tito Schipa"- Lecce
.
The initiative, completely free, is aimed at 𝗴𝗶𝗼𝘃𝗮𝗻𝗶 𝗶𝘀𝗰𝗿𝗶𝘁𝘁𝗶 𝗼 𝗱𝗶𝗽𝗹𝗼𝗺𝗮𝘁𝗶 𝗽𝗿𝗲𝘀𝘀𝗼 𝗖𝗼𝗻𝘀𝗲𝗿𝘃𝗮𝘁𝗼𝗿𝗶 𝗼 𝗜𝘀𝘁𝗶𝘁𝘂𝘁𝗶 𝗦𝘂𝗽𝗲𝗿𝗶𝗼𝗿𝗶 𝗱𝗶 𝗦𝘁𝘂𝗱𝗶 𝗠𝘂𝘀𝗶𝗰𝗮𝗹𝗶, with particular aptitude and interest in subjects such as composition, band instrumentation and band or orchestra conducting.
What are you waiting for? The announcement is online on the portal of the Municipality of Acquaviva delle Fonti
𝗦𝗰𝗮𝗱𝗲𝗻𝘇𝗮: 𝟭𝟮 𝗺𝗮𝗿𝘇𝗼 𝟮𝟬𝟮𝟮 – 𝗼𝗿𝗲 𝟭𝟮:𝟬𝟬.